Greater Birmingham Mathematics Partnership Holds Four Public Sessions
Description
The Greater Birmingham Mathematics Partnership (GBMP) hosted four Public Sessions throughout the Greater Birmingham area in January 2005 for parents, teachers, school administrators and community members. Dr. Ruth Parker of the Mathematics Education Collaborative spoke to the audiences about improving mathematics education and engaged the audience in doing mathematics.
Parker emphasized the importance of teaching mathematics for understanding. On the post-session evaluation form, one participant wrote, "The way Dr. Parker presented the information was 'eye opening'... ." Another commented that, "Ruth's methodology makes perfect sense - I honestly believe that if it could be implemented it could alleviate fear and mental blocks that we develop over math."
Parents and community members must be vital partners if the GBMP project is to be fully successful. Thus, raising their awareness and building their support and advocacy for quality mathematics education is one of the project's most important goals. And these public sessions seem to have had some effect as one participant wrote about how "critical parent knowledge & involvement is to our children."
Public Sessions will continue to be offered in the fall and spring each year at a variety of locations. More than 375 people attended the January 2005 sessions and 90% of those completing post session evaluations rated the evening as informative or extremely informative.
GBMP also hosted a half-day event for 24 local school principals and administrators. One participant described the experience as "very powerful" and another wrote that "Each segment of the meetings help me gain the knowledge necessary to support my teachers as they approach the summer courses."

Pictures from the sessions: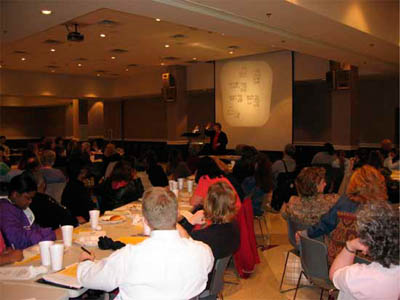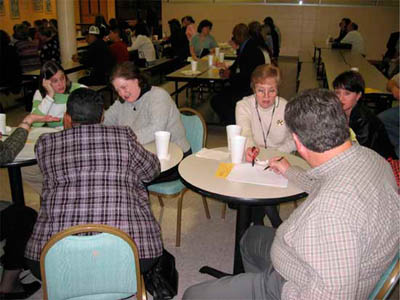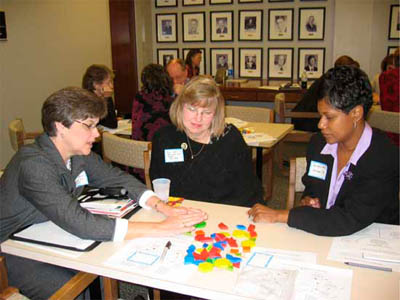 Copyright © 2005 by Bernadette Mullins and Birmingham-Southern College.
All rights reserved. Used with permission.